Simplify Your Journey: Delhi to Jim Corbett Taxi Services by India Taxi Online
Jim Corbett is one of India's most beautiful wildlife areas and has a tiger population of around 160. You can easily get accommodation in Jim Corbett at affordable rates. You can visit anytime except during monsoon season. Jim Corbett attracts thousands of tourists every year because of its natural beauty of flora and fauna. It also offers adventurous activities like rock climbing and river crossing.
Delhi to Jim Corbett Taxi fare
Delhi Jim Corbett tour by Sedan Cabs ₹ 10- 12/-* Per km.
Delhi Jim Corbett by Toyota Innova Crysta SUV cabs  ₹ 20 – 22/-* Per km.
Delhi Jim Corbett tour by Tempo Traveller Van ₹ 25 – 30/-* Per km.
Jim Corbett National Park is only 250 away from Delhi, It takes only 5-6 hr oneway by road, If you are planning to visit Corbett Nationalpark, you can discuss your tour with us at +91-9999322925.
Get more details about Delhi to Jim Corbett Car rental option details below.
Experience the Wild with Our Delhi to Jim Corbett Taxi Tour – Itinerary Included
Are you ready to embark on an unforgettable journey to the wilderness of Jim Corbett National Park? Our Delhi to Jim Corbett Taxi Tour offers a well-planned itinerary for a 2 Nights 3 Days adventure.
Trip Duration: 2 Nights 3 Days
Day 1: Delhi to Jim Corbett National Park (By Car)
Start your journey from Delhi to Jim Corbett National Park by car.
Enjoy breakfast en route to your destination.
Upon arrival, transfer to your chosen hotel and check-in.
Flexibility to explore local attractions around Jim Corbett National Park, including a visit to the famous Museum of Corbett National Park at Dhangari.
Return to your hotel for an evening tea, followed by a campfire and a delicious dinner.
Overnight stay in your hotel.
Day 2: Safari Day in Corbett National Park
Begin your day with an early morning experience of the surrounding forest and riverside.
Enjoy an early morning open Jeep Safari accompanied by an expert naturalist, who will guide you through the flora and fauna of the area.
After breakfast, visit the beautiful Corbett Falls and Jim Corbett House at Choti Haldwani.
Return to your hotel for lunch.
In the afternoon, embark on a game drive in 4×4 WD Jeeps within the National Park for an exciting Jeep Safari.
Evening brings tea, a campfire, and a delightful dinner, followed by an overnight stay in your Corbett National Park hotel.
Day 3: Corbett to Delhi (By Car)
Start your day with a leisurely breakfast.
Bid farewell to the tigers of Corbett and prepare for your journey back to Delhi from Jim Corbett National Park.
Depart with cherished memories of a once-in-a-lifetime trip.
This Delhi to Jim Corbett Taxi Tour is designed to offer you an immersive and memorable experience in one of India's most renowned national parks. Get ready to explore the wild and create lasting memories on this thrilling 3-day adventure. Book your tour now and make the most of your visit to Jim Corbett National Park!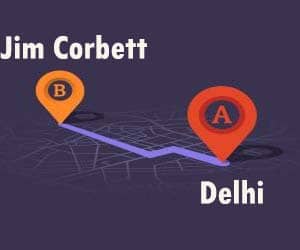 Time, Distance & Fare
Time: Jim Corbett. (Uttrakhand) Takes approx 5-6hrs drive from Delhi.
Distance: Jim Corbett. (UK) 250 km from New Delhi.
Fare: Our Starting fare for Delhi to Corbett taxi is Rs. 9 per km in Sedan Cabs and Toyota Innova / Similar Rs. 12-14 per km.
A four days Delhi Corbett taxi fare will be come to :
Minimum 3 Days fare for Sedan Car 750 km x Rs. 9-10 per km = Rs. 6,750 – 7,000/-.
And total km runs in three days around 600 km.
Then, total cab fare for Innova will be around 750 kms Rs. 12 – 14 per km = Rs. 9,000 – Rs. 10,500/- *.
Contact our expert for more details about our Delhi to Jim Corbett Car rental or fill below contact form.
Activity in Jim Corbett
Best thing to do in Jim Corbett National Park is Corbett Jungle Safari which is available from :
6:30 am to 10 am (Morning)
1:30 pm to 5:30 pm (Afternoon)
And the fare of this Junglr safari tour comes around to:
Rs 4000-4500 for 6 seater jeep
Rs 1200-1500 per person in canter bus
Elephant safari is also available.
Apart from the Junglr safari, you may also visit:
Kalagarh Dam
Corbett Museum
Kosi River
Garjiya Devi Temple
Sitabani Temple
Corbett Falls
Corbett Tiger Reserve
Hotels in Jim Corbett, National Park
In corbett you can contact below hotel for stay.
Pagoda Manu Maharani (5*)
Country Inn Corbett (4*)
Sterling Corbett (Star Rated)
Lemon Tree Premier, Corbett (5*)
Corbett The Baagh Spa & Resort (Star Rated)
Taj Corbett Resort & Spa, Uttarakhand (5*)
You may also plan to stay in Ram Nagar, which is not so far from Corbett National Park. Corbett is only 2km away from Ram Nagar.
Are you ready for an exciting adventure in the heart of India's wilderness? Jim Corbett National Park, nestled in the beautiful state of Uttarakhand, is a haven for wildlife enthusiasts and nature lovers. If you're planning to embark on a memorable journey from Delhi to Jim Corbett, we've got you covered. India Taxi Online offers reliable and convenient taxi services, ensuring you have a hassle-free travel experience.
Discover the Beauty of Jim Corbett National Park
Jim Corbett National Park, India's oldest national park, is a wildlife sanctuary like no other. Home to the majestic Bengal tiger, diverse flora and fauna, and mesmerizing landscapes, it's a place where you can immerse yourself in the wonders of nature. From thrilling safaris to birdwatching and serene nature walks, there's something for everyone.
Why Choose India Taxi Online for Your Delhi to Jim Corbett Journey?
Convenience: We understand the importance of a comfortable journey. Our taxis are well-maintained and equipped to make your ride as smooth as possible. Say goodbye to the hassle of public transport and enjoy a private, air-conditioned vehicle just for you and your companions.
Experienced Drivers: Our experienced and courteous drivers are familiar with the route from Delhi to Jim Corbett. They ensure a safe and enjoyable journey, making stops as needed for refreshments and rest breaks.
Affordable Fares: At India Taxi Online, we offer competitive and transparent pricing. No hidden charges or surprises. You can choose from various taxi options to suit your budget, including one-way and roundtrip fares.
Flexible Booking: Whether you're planning a quick day trip or an extended stay in Jim Corbett, our taxi services are flexible. You can book a one-way trip or a roundtrip, ensuring your travel plans are tailored to your needs.
Safety: Your safety is our top priority. We adhere to all safety guidelines, including regular vehicle maintenance and ensuring our drivers follow all necessary safety protocols.
24/7 Availability: Our taxi services are available around the clock, making it convenient for early morning or late-night travel. Just book your taxi, and we'll be there to pick you up.
How to Book Your Delhi to Jim Corbett Taxi
Booking your taxi with India Taxi Online is a straightforward process:
Visit Our Website: Head to our website and enter your travel details, including the pickup location, destination, date, and time.
Select Your Vehicle: Choose from our range of vehicles to suit your needs and budget.
Review Your Fare: You'll receive an instant quote for your trip, with all costs clearly detailed.
Confirm Your Booking: Once you're satisfied with the fare and details, confirm your booking, and you're all set.
Relax and Enjoy: On the day of your journey, our driver will arrive on time, ensuring a smooth ride to Jim Corbett.
Explore the Enchanting Corbett Region
Jim Corbett National Park is not the only attraction in the region. The area surrounding Corbett is equally captivating. You can explore the charming towns and villages, visit the Corbett Museum, or embark on excursions to places like Garjia Temple, Sitabani Wildlife Reserve, and Corbett Waterfall. With India Taxi Online, you have the flexibility to plan your itinerary and make the most of your visit.
So, are you ready to embark on your Delhi to Jim Corbett adventure? Book your taxi with India Taxi Online and ensure a comfortable, convenient, and safe journey to this natural paradise. Witness the beauty of the jungle, spot wildlife, and create lasting memories. Your adventure begins with us!
Sate Tax, Toll –  Tax, Parking between Delhi Jimcorbett oneway and roundtrip will be around Rs. 1500 – 2000 /-. We all also offer to book 100% all inclusive fare for Corbett.
Our Car Rental fleet
Our clients they trust in our Services (India Taxi Online)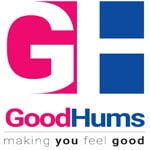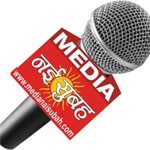 Places to Vsit near Corbett
Visit us at Office in Delhi
Office Number: LG -24, Plot No.13, Vardhman Times Plaza, Pitampura Delhi 110034.
For Sales : +91-9999322925
Phone : 011-45700804. (10:00am to 7:00 pm) Sunday off.
Email: booking@indiataxionline.co.in
Most traveler who want to visit in Corbett National Park, they also want to spend one extra day in Nainital too.
In Uttrakhand there are lots of beautifull hill station, we would like to suggest you also check our Delhi to Chardham Yatra taxi pakages, In Chardham Yatra you cover Haridwar, Rishikesh, Yamunotri, Gangotri, Kedarnath & Badrinath.
India Taxi Online
Average rating:
0 reviews