Book Delhi Sightseeing Tour by car with India Taxi Online
Delhi Local Sightseeing Tour, Delhi City Tour booking is so easy and convenient to book online with us, you can book your Delhi city tour chauffeur driven sightseeing of Delhi city, We provide hassle-free Delhi Local Sightseeing trip service, book online Delhi Sightseeing tour call us on our 24/7 support number and book taxi for your Delhi Sightseeing tour. India Taxi Online provides the cheapest taxi services in Delhi.
Delhi Sightseeing Tour Taxi fare
Delhi Sightseeing tour by Sedan Cabs @ ₹2500 – 3000/-*.
Delhi Local Sightseeing tour by Toyota Innova Crysta SUV cabs @ ₹4000 – 5,000/-*.
Delhi Sightseeing by Tempo Traveller Van  @ ₹8,000 – 10,000/-*.
Our offer Delhi City tours:
One-day Delhi Tour by taxi/cab
Two Days tour package by car/taxi
You can also plan a one-day Agra Mathura Vrindavan trip from New Delhi, Offered by our Delhi office. Our one-day Delhi is for 9-10 hrs, which can extend till 12-15 hrs. You can discuss your tour with our Manager Mr. Jha at +91-9999322925. Below we have shared information about our one and two-day Delhi darshan tour plan, have a look at it.
Delhi darshan tour package timings:
Morning 9:00 am to 6:00pm, Duration one day.
Places covered in our one day Delhi Local Sightseeing:
India Gate: India Gate is a war memorial to 82000 Indian soldiers, who died during First World war. This memorial is open from 5:00 AM to 12:00 AM and entry is free.
Rashtrapati Bhawan: Rashtrapati Bhawan is a big mansion, which is the residence of President of India. Entry here is free and timings are 9:30 AM to 5:30 PM (only overview)
Rajghat: Rajghat is a memorial of India'a father of the nation, Mahtma Gandhi. This memorial is open from 6:30 AM to 6:00 PM and there is no entry fees for this memorial.
Humayun Tomb: Humayun Tomb: Tomb of Mughal Emperor Humayun, built in 1570 AD. Humayun Tomb timings are from 6 AM to 7 PM & entry free is Rs 30 & Rs 500 for Indian & Foreigners.
Qutub Minar: Qutub Minar, a UNESCO World heritage site, built in 1192 AD by Qutb-ud-din Aibak. Timings are 7:00 AM to 5:00 PM and entry free is Rs 30 & Rs 500 for Indian & Foreigners.
Red Fort: Red Fort, a 17th century fort built by Shahjahan, who also built Taj Mahal. Entry ticket fees is Rs 10 & 150 for Indian & Foreigners and timings are 6 am – 6 pm
Lotus Temple: Lotus temple is a Bahá'í temple, built in 1986 and welcomes people of all faith to come & pray here. Entry here is free and timings are 9 am to 5:30 pm
Gurudwara Bangla Sahib: Gurudwara Bangla Sahib is a Sikh temple, built in 1793 AD and is associated with Guru Har Krishan (8th Sikh Guru). There is no entry ticket and it;s open 24 hours.
Jama Masjid: Jama Masjid is a 17th century Mosque, built by Mughal Emperor Shahjahan. Entry in Jama Masjid is free for all and timings are 7 am to 12 pm & 1:30 om to 6:30 pm
Shri Digambar Jain Lal Mandir Lal Mandir: Shri Digambar Jain Lal Mandir, built in 1658 AD is one of the oldest Jain temple in Delhi. Now it's a veterinary hospital for birds and is open from 6 am to 9 pm
Fabulous Delhi local sightseeing tour by car with India Taxi Online
Delhi is the Capital territory of India, it is also known as National Capital Territory of Delhi. It has a populace of around 11 million and a metropolitan populace of around 16.3 million, making it the second most crowded city and second most crowded urban agglomeration in India. Delhi has been persistently occupied since the sixth century BC. Conversely, the royal city of New Delhi made by the British Raj is made out of roomy, tree-lined parkways and forcing government structures. Delhi darshan Delhi has been the seat of force for a few rulers and numerous domains for around a thousand years. Numerous a times the city was fabricated, decimated and afterward reconstructed here. Interestingly, various Delhi's rulers assumed a double part, first as destroyers and after that as inventors.
Temperatures in Delhi as a rule range from 5 to 40 °C (41.0 to 104.0 °F), with the least and most elevated temperatures ever recorded being −6.7 and 47.8 °C (19.9 and 118.0 °F) respectively. Delhi amalgam with a portion of the best traveler puts that can be gone by anytime of the year. Consistently number of vacationer comes to Delhi, India to see the best places to visit in Delhi. These are the some famous tourist destinations Qutub Minar, Humayun's Tomb, Red Fort, Jantar Mantar, Purana Qila, Lotus Temple and much more. We are one of the leading tour and taxi providers in Delhi; you can find Delhi local sightseeing tour by car at affordable price. Our service is one of the famous service in Delhi peoples. In Delhi it is quite difficult to find great taxi or car at affordable price. Enjoy Delhi's historical monuments with us, our drivers are polite, Punctual and helpful in all ways. We only believe in Customer Satisfaction. We have great collections of vehicles like Audi, BMW, Swift, Innova and so on.
We offer Delhi sightseeing package tours, at best price. This package includes all historical monuments and famous shopping doors. Presented with well laid out streets, high rising structures, tremendous shopping buildings, pleasantly oversaw stops and gardens, and agreeable atmosphere, Indian national capital New Delhi offers verging on everything for a sublime excursion. While on New Delhi occasions, don't miss delightful shopping and additionally feasting encounters. Rush and arrangement an occasion in New Delhi this excursion. We must say we making your Delhi trip amazing and unforgettable. After the tour you must say it was really amazing tour.
Our one day Delhi Local sightseeing tour by Taxi/Car.
1. 12 hours Delhi Darshan
Our 12 hr Delhi Darshan tour, you will covered these sites in Delhi which are open between 6 am to 6 pm. You will start the Delhi city tour with:
1. India Gate
2. Rashtrapati Bhawan
3. Rajghat
4. Humayun Tomb
5. Qutub Minar
6. Red Fort
7. Lotus Temple
8. Gurudwara Bangla Sahib
9. Jama Masjid
10. Lal Mandir (Shri Digambar Jain Lal Mandir)
Fare for this Delhi Darshan one day tour is Rs 2400 in Swift Dzire cab and Rs 3500 in Toyota Innova taxi/car.
Our one day Agra, Mathura and Vrindavan tour starts with "Agra sightseeing tour" (Fatehpur Sikri mot included) till 2 pm, after you will drive for Mathura & Vrindavan to visit:
Banke Bihari Temple in Vrindavan.
Sri Krishna-Balaram Temple (ISKCON Temple) Vrindavan.
Shree Krishna Janambhoomi Temple in Mathura.
The fare for this tour is Rs 2800 for sedan cab Rs 3200 in Innova car. Call us at +91-9999322925for more details.
For More details about thease tours call us our Manager Mr. Jha at +91-9999322925, or +91-9540000804
Please check below our two days Delhi sightseeing tour plans.
Our two days Agra sightseeing tour by Taxi / Cab.
1. Two Days Delhi Darshan Tour.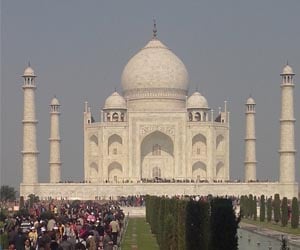 3. Private guided Delhi city Tour
Discover Delhi's Treasures: Book a Sightseeing Tour by Car with India Taxi Online
Are you ready to explore the vibrant and historical city of Delhi? Whether you're a tourist or a local resident looking to rediscover the city's beauty, India Taxi Online offers a convenient and exciting way to experience Delhi's rich culture, history, and landmarks. Book a Delhi Sightseeing Tour by car with us, and embark on a journey that will leave you with lasting memories.
Why Choose a Car for Your Delhi Sightseeing Tour?
Delhi is a sprawling metropolis with numerous attractions spread across the city. A car tour offers several advantages:
Comfort and Convenience: Traveling in a private car ensures that you can explore Delhi at your own pace. There's no need to rush from one site to another or worry about crowded public transportation.
Customized Itinerary: With a car tour, you can create a personalized itinerary that suits your interests. Visit the places that matter most to you, whether it's historical sites, cultural landmarks, or bustling markets.
Expert Drivers: Our experienced and knowledgeable drivers are well-versed in Delhi's streets and attractions. They can provide insights, recommendations, and historical context, making your tour more informative and enjoyable.
Safety: Your safety is paramount to us. Our vehicles are regularly maintained and follow all safety standards, ensuring a secure and comfortable journey.
Top Delhi Attractions to Explore
Delhi is a city of contrasts, where ancient history seamlessly blends with modernity. Here are some of the must-visit attractions on your Delhi Sightseeing Tour:
The Red Fort: A UNESCO World Heritage Site, the Red Fort is an iconic symbol of India's history. Explore its magnificent architecture and delve into the nation's past.
Qutub Minar: The Qutub Minar complex boasts the world's tallest brick minaret and a host of other historic structures and monuments.
India Gate: Pay homage to India's soldiers at the India Gate, a war memorial surrounded by beautifully manicured lawns.
Humayun's Tomb: This Mughal architectural masterpiece is often considered a precursor to the Taj Mahal and is a UNESCO World Heritage Site.
Lotus Temple: Marvel at the lotus-shaped Bahá'í House of Worship, known for its striking architecture and tranquil ambiance.
Akshardham Temple: This grand temple complex is known for its intricate carvings, stunning architecture, and spiritual significance.
Jama Masjid: Visit one of India's largest mosques, which offers breathtaking views of the city from its minarets.
Chandni Chowk: Dive into the bustling streets of Old Delhi, where you can savor delicious street food and shop for traditional goods.
Booking Your Delhi Sightseeing Tour
Booking your Delhi Sightseeing Tour by car with India Taxi Online is a straightforward process:
Visit Our Website: Head to our website and provide your tour details, including the places you want to visit tour duration, and any special requests.
Choose Your Vehicle: Select the vehicle that suits your group size and preferences.
Get a Quote: Receive an instant quote, with a clear breakdown of costs.
Confirm Your Booking: Once you're satisfied with the itinerary and fare, confirm your booking.
Embark on Your Journey: Your experienced driver will pick you up, and you can begin your exploration of Delhi's wonders.
Rediscover Delhi, and explore its history, culture, and vibrant life with a Delhi Sightseeing Tour by car from India Taxi Online. Create cherished memories and explore the heart of India's capital city at your own pace. Book your tour today!
India Taxi Online
Average rating:
0 reviews