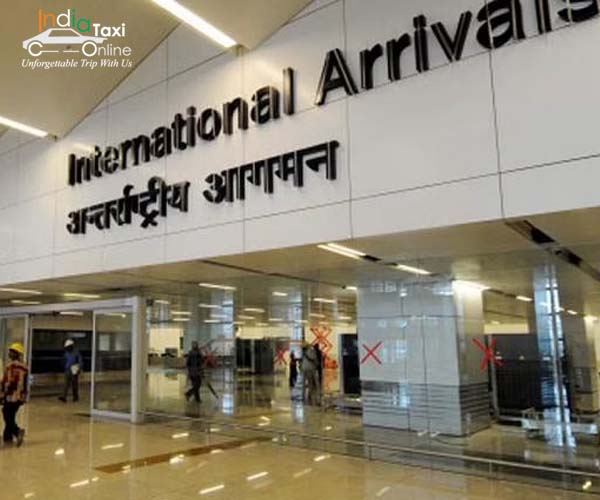 Indira Gandhi International Airport (IATA: DEL, ICAO: VIDP) is the primary international airport serving Delhi, the capital of India, and the National Capital Region (NCR). The airport, spread over an area of 5,106 acres (2,066 ha), is situated in Palam, Delhi, 15 km (9.3 mi) southwest of the New Delhi Railway Station and 16 km (9.9 mi) from New Delhi city centre. Named after Indira Gandhi (1917–1984), a former Prime Minister of India, it is the busiest airport in India in terms of passenger traffic since 2009. It is also the busiest airport in the country in terms of cargo traffic, overtaking Mumbai in late 2015. As of 2022, it is the seventh busiest airport in the world, as per the latest rankings issued by the UK-based air consultancy firm, OAG. It is the second busiest airport in the world by seating capacity, having a seating capacity of over 3.6 million seats, and the busiest airport in Asia by passenger traffic handling nearly 37.14 million passengers in 2021.
Indira Gandhi International Airport Taxi Service:
Hire a taxi at Delhi airport package for Outstation travel.
Hire a taxi on rent in New Delhi airport for Hotel pickup & drop.
New Delhi airport Car rental service for Marriages, parties, and events.
We at India Taxi Online, are committed to making your travel to New Delhi an amazing experience. Our services are unique in the car rental industry. Hiring our services means you'll rest assured about enjoying a safe and hassle-free trip in New Delhi.
Our team of chauffeurs and representatives will leave no stone unturned to make you feel special and the travel an exciting and safe affair. Book a car with India Taxi online and experience an unforgettable trip.
Taxi available for rent at New Delhi Airport Terminal – 1, 2 & 3:
Taxis at IGI Airport
Taxi services have become an integral part of the IGI Airport Terminal 3. With the increasing number of passengers travelling to and from the airport, the demand for reliable and convenient taxi services has increased. This has led to the emergence of a range of companies offering taxi services at the IGI Airport Terminal 3.
Airport Taxi at IGI Airport Terminal 3
The IGI Airport Terminal 3 offers a wide range of taxis, both private and public. Private taxis can be pre-booked or hired on arrival. The fare varies depending on the time of day, the distance travelled and the type of vehicle hired. Taxis can be booked online or through the airport taxi counter.
Public taxis are available outside the terminals and are easy to spot. All taxis operating at the IGI Airport Terminal 3 are required to have a valid permit from the transport department. All public taxis are metered and the fare is determined by the distance travelled. It is advisable to check the fare with the driver before beginning the journey.
Taxi Service IGI Airport
Taxi services at IGI Airport Terminal 3 are provided by a range of companies. These companies offer a variety of services, including airport transfers, city tours, sightseeing tours and corporate travel services. All companies provide reliable and safe services, with experienced drivers and well-maintained vehicles.
The IGI Airport Terminal 3 also has a dedicated taxi service called "Airport Express". This service provides 24-hour airport transfers and city tours. The Airport Express service is available to passengers arriving at the airport and those departing from the airport. The service is fast, reliable and cost-effective.
For those looking for a more luxurious experience, there are a range of limousines and luxury cars available for hire. These cars can be pre-booked or hired on arrival. The fare varies depending on the type of vehicle hired and the distance travelled.
Apart from taxi services, there are also a number of shuttle services operating at the IGI Airport Terminal 3. Shuttle services are ideal for those travelling in groups, as they can be hired on a per-person basis. Shuttle services are also cheaper than taxis, as the fare is determined by the number of passengers travelling.
The IGI Airport Terminal 3 also has a number of car rental companies that provide cars for hire. Car rental companies offer a range of cars, from economy cars to luxury cars. The fare varies depending on the type of car hired and the duration of the rental.
The IGI Airport Terminal 3 is well-connected to the rest of the city by a number of public transportation options. The Metro Rail, buses and auto rickshaws are all available at the airport. These services are cheaper than taxis and can be used to travel to and from the airport.
Overall, the IGI Airport Terminal 3 provides a range of taxi services, from private to public, shuttle services, luxury cars and car rental services. All of these services are reliable, safe and cost-effective. So, no matter what your travel needs are, there is sure to be a taxi service available to meet them.
Seamless Taxi Service at IGI Airport Terminal 3: Your Gateway to Convenience
When you arrive at the Indira Gandhi International Airport's Terminal 3 in Delhi, your journey doesn't have to end at the airport. India Taxi Online is your trusted partner for a seamless and comfortable taxi service that takes you from the airport to your destination with ease.
Why Choose Our Taxi Service at IGI Airport Terminal 3?
Convenience: After a long flight, the last thing you want is the hassle of finding a taxi. Our services are designed to make your transition from the airport smooth and stress-free. Your taxi will be waiting for you at the terminal, ensuring a hassle-free experience.
Safety: Your safety is our top priority. Our vehicles are well-maintained, and our drivers are experienced and reliable. We follow all safety protocols to ensure you reach your destination securely.
Variety of Vehicles: We offer a range of vehicles to suit your needs, from comfortable sedans to spacious SUVs. You can choose the vehicle that matches your group size and luggage requirements.
Local Knowledge: Our drivers are well-acquainted with Delhi's streets and traffic conditions, ensuring the fastest and most efficient route to your destination.
Booking Your Taxi at IGI Airport Terminal 3
Booking a taxi at IGI Airport Terminal 3 with India Taxi Online is a straightforward process:
Meet and Greet: Our friendly and professional staff will meet you at the arrival gate, making your transition from the terminal to the taxi as smooth as possible.
Select Your Vehicle: Choose the vehicle that best suits your needs from our fleet.
Clear Pricing: We offer transparent and competitive pricing. The fare will be calculated based on your destination and the type of vehicle you select.
Payment Options: You can pay for your taxi using various payment methods, including cash, credit/debit cards, and digital wallets.
Enjoy the Ride: Your driver will ensure you have a comfortable journey to your desired location, be it your hotel, a business meeting, or any other destination.
Our taxi service at IGI Airport Terminal 3 is not just about reaching your destination; it's about ensuring that your entire journey is pleasant and convenient. With India Taxi Online, you can relax and enjoy the ride, knowing that your comfort and safety are our top priorities.
For a hassle-free and comfortable taxi service from IGI Airport Terminal 3, choose India Taxi Online as your trusted travel partner
Outstation Taxi tour package available from New Delhi New Delhi Airport
Popular car rental destination from New Delhi IGI Airport