Book Delhi to Ajmer taxi service from India Taxi Online
About Ajmer (Rajasthan) : Ajmer is the historical city located in the heart of Rajasthan, India. The city was founded by Raja Ajay Pal Chauhan in the 7th Century A.D. Ajmer is surrounded by Aravalli hills and situated on the banks of Ana Sagar Lake at an altitude of approx 500 meters above sea level. Ajmer is located approx 150 kilometer from Jaipur and approx 500 kilometer from National Capital, Delhi. Ajmer is very popular pilgrimage spot for Hindus as well as for Muslims. Ajmer is the house of Ajmer Sharif Dargah of the Sufi saint Khwaja Moinuddin Chisti which is equally visited by Hindus and Muslims. There is a blend of Hindu and Muslim culture in Ajmer. The Dargah attracts millions of pilgrims from India as well as from all over the world every year. One can experience the beautiful architecture of Ajmer which still carries it royalty. Ajmer is the perfect place which demonstrates the real beauty of Indian culture and Islamic tradition. One can explore the interesting facts of our history in Ajmer. Ajmer experience hot summers and cool winters, in summers temperature goes around 45 º c so one should visit Ajmer in winter during the month of September to February. Ajmer is well connected to Delhi, Agra and Jaipur by road.
Below we shared more information about Delhi to Ajmer taxi like: Distance, Fare, Places to visit. You may also call at +91-9999322925 for Delhi Ahmer taxi booking.
Delhi Ajmer Distance, time, taxi fare :
Distance: Ajmer. (RJ) 405 km far from New Delhi.
Time: Ajmer. (RJ) Takes approx 7-8hrs drive from Delhi.
Taxi fare: Our Starting fare for Delhi Ajmer taxi is Rs. 9 -10 per km in Sedan Cabs and Toyota Innova / Similar Rs. 13 – 16 per km.
A four days Delhi to Ajmer taxi fare will be come to :
Minimum 4 Days fare for Sedan Car 1000 km x Rs. 9-10 per km = Rs. 9,000 – 10,000/-.
And total km runs in four days around 1150 km.
Then, total cab fare will be around 1150 kms Rs. 9 – 10 per km = Rs. 10,350 – Rs. 11,500/- *.
Contact our expert for more details about our Delhi to Ajmer Car Rental or fill below contact form.
Places to visit in Ajmer:
If you are planing to visit Ajmer, must visit below sites in Kasol.
DARGAH KHWAJA SAHAB
Museum
Ana Sagar Lake
Taragarh Fort
Nasiyan Jain Temple
Rangji Temple
Akbar's Palace & Museum
Pushkar
Mayo college
Nareli Jain Temple
Savitri Temple
Akbari Masjid
Daulat Bagh Garden
Buland Darwaza
Hotels in Ajmer :
In Ajmer you can contact below hotel for stay.
Hotel LN Courtyard
The Royal Melange Beacon Hotel
Bravia Hotel Ajmer
Ramada by Wyndham Ajmer
The Chitvan Resort
You may also plan to stay in Pushkar, which is not so far from Ajmer.
Economy & Executive car rentals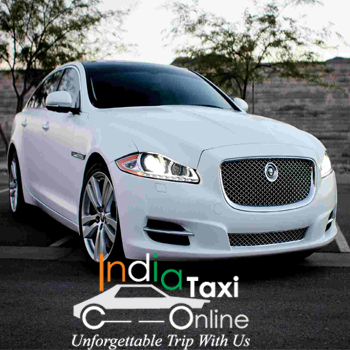 SUV'S & luxury car rentals
SUVS & MUVS car rental:
Toll-Tax, Parking, State tax between Delhi to Ajmer around Rs. 1,500 – 2,000 for oneway and roundtrip. We also offer 100% all inclusive taxi fare for Ajmer from New Delhi. You can call our manager Mr. Jha at +91-9999322925 for taxi booking
India Taxi Online
Average rating:
0 reviews