Book Delhi to Agra Taxi with India Taxi Online
Agra is a city on the banks of the river Yamuna in the northern state of Uttar Pradesh, India. It is 363 kilometres west of the state capital, Lucknow, 200 kilometers south of the national capital New Delhi and 125 kilometers (78 mi) north of Gwalior. It is one of the most populous cities in Uttar Pradesh and the 19th most populous in India. Agra can also refer to the administrative district that has its headquarters in Agra city. It is a major tourist destination because of its many splendid Mughal-era buildings, most notably the Taj Mahal, Agra Fort and Fatehpūr Sikri, all three of which are UNESCO World Heritage Sites. Agra is included on the Golden Triangle tourist circuit, along with Delhi and Jaipur.
Delhi to Agra Taxi fare
Delhi Agra tour by Sedan Cabs ₹ 9 – 10/-* Per km.
Delhi Agra trip by Toyota Innova SUV cabs  ₹ 13 – 14/-* Per km.
Delhi Agra tour by Tempo Traveller Van ₹ 18 – 20/-* Per km.
Agra is only 250 away from Delhi, It's take only 3-4 hr oneway drive by raod, If you are planing to visit Agra, you can discuss yor tour with us at +91-9999322925.
India taxi online offers you the best taxi ride to Agra and to these places for visit. Book your Delhi to Agra taxi with us in easy steps and ensure a great journey to some beautiful places around Agra and Delhi.
Have a look on our Delhi to Agra Taxi trip details
Looking for car hire from Delhi to Agra? Your requirement for a Delhi to Agra taxi can be fulfilled at IndiaTaxiOnline.co.in. Book a taxi for your next journey between Delhi and Agra at Indiataxionline.co.in for a comfortable journey. At IndiaTaxiOnline.co.in we provide with the best maintained cars for your convenience for trips between Delhi & Agra. Booking a cab is very easy at India Taxi Online with pickups scheduled as per your convenient timing and place.
Itinerary
Trip Duration: ( 1 Day, time duration 15 hr)
Agra is approx 220 kms. From New Delhi, Time Taken 3 hrs. 30 min. approx. by Yamuna Express way to Agra, Taj Mahal. Old Way Its takes 4 to 5 hours
06:00 am to 07:00 am from Delhi-Agra by ac taxi / car
We will pick you from the hotel, home, railway station, airport, by our representative in Delhi and will be driven to Agra through Yamuna Express way (Fastest way to reach Agra by World class road condition). On the stop over at 2nd toll gate of Yamuna express way for Tea/Coffee (Enjoy the Tea Break). Reach Agra With in 3 hrs 30 min.
09:00 am – 10:00 am – Go to Visit Taj Mahal
On arrival at Agra, our executive will welcomed you at Agra & introduce you with our tour guide, who will take you to the Taj Mahal. You can explore the Beauty of Taj Mahal & history.
12:00 noon to 01:00 pm – Go for Lunch at Agra.
After Visit the Seven Wonders of the World Taj Mahal, Enjoy Lunch in local Recommend Restaurant or Hotel in Agra. After completing your lunch go to Visit Agra Fort
02:00 pm to 3:00 pm – Go to Visit Red Fort
After Having your Lunch, Go to visit Agra Fort, the Magnificent Beauty of Red Sandstone Positioned on the Banks of River Yamuna.
03:30 pm to 04:30 pm go to Explore the Local Market of Agra
After Visit Red Fort you can explore the colorful markets of Taj City Agra which is famous for Marble, leather goods and handicraft Items.
05:00 pm to 06:00 pm – After Visiting Beauty of Agra, Taj Mahal & Drive to Delhi
With Sweet memories of Agra Same day tour and driver to Delhi From Agra, Via Yamuna Express way and we'll drop you at your Hotel, Home, Airport, Railway Station in Delhi for your onward destination. We hope you keep Sweet Memories of Same Day Agra Tour by Car with our company.
---
If you wish to explore Agra and nearby places while based in Delhi, there are plenty of attractions over there. You can visit places like Taj Mahal, Fatehpur Sikri, Agra Fort, Sikandra, Itmadud Daula, Soor Sarovar, Jama Masjid, Diwan-i-Am & Buland Darwaza while at Agra. We offer Delhi-NCR to Agra car rental at attractive prices.
Time, Distance & Fare
Time: Agra. (Uttarpradesh) Takes approx 3-4hrs drive from Delhi.
Distance: Agra. (UP) 250 km from New Delhi.
Fare: Our Starting fare for Delhi to Corbett taxi is Rs. 9 per km in Sedan Cabs and Toyota Innova / Similar Rs. 12-14 per km.
A three days Delhi Agra taxi fare will be come to :
Minimum 3 Days fare for Sedan Car 750 km x Rs. 9-10 per km = Rs. 6,750 – 7,000/-.
And total km runs in three days around 600 km.
Then, total cab fare for Innova will be around 750 kms Rs. 12 – 14 per km = Rs. 9,000 – Rs. 10,500/- *.
Contact our expert for more details about our Delhi to Agra Car rental or fill below contact form.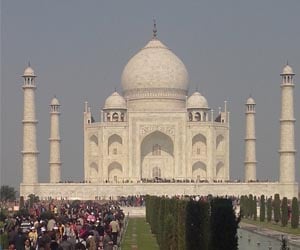 Places to visit in Agra
Agra is most famous for its monumental structure, the Taj Mahal, built by Emperor Shah Jahan during his time in 1653 in the memory of his wife Mumtaz Mahal. This is one of the best attractions around in a place where approximately 10 million visit every year. Apart from the Taj Mahal there are other attractions as well like the Agra Fort, Fatehpur Sikri etc among many others.
Taj Mahal

Agra Fort

Fatehpur Sikri

Itimad-Ud-Daulah

Akbar's Tomb, Sikandra

Mehtab Bagh
Hotels in Agra. Uttarpradesh
In Agra you can contact below hotel for stay.
Taj Hotel & Convention Centre, Agra (5*)
ITC Mughal, Agra- a Luxury Collection Hotel (5*)
DoubleTree by Hilton Hotel Agra (5*)
The Coral Court Homestay (Star Rated)
Hotel Seven Hills Tower (Star Rated)
Trident, Agra (5 Star)
Sate Tax, Toll –  Tax, Parking between Delhi Agra Delhi oneway and roundtrip will be around Rs. 1500 – 2000 /-. We all also offer to book 100% all inclusive fare for Agra.
Our Car Rental fleet
Our clients they trust in our Services (India Taxi Online)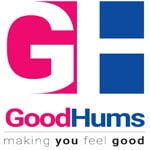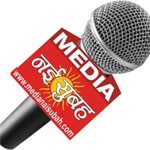 Points of Interest in Agra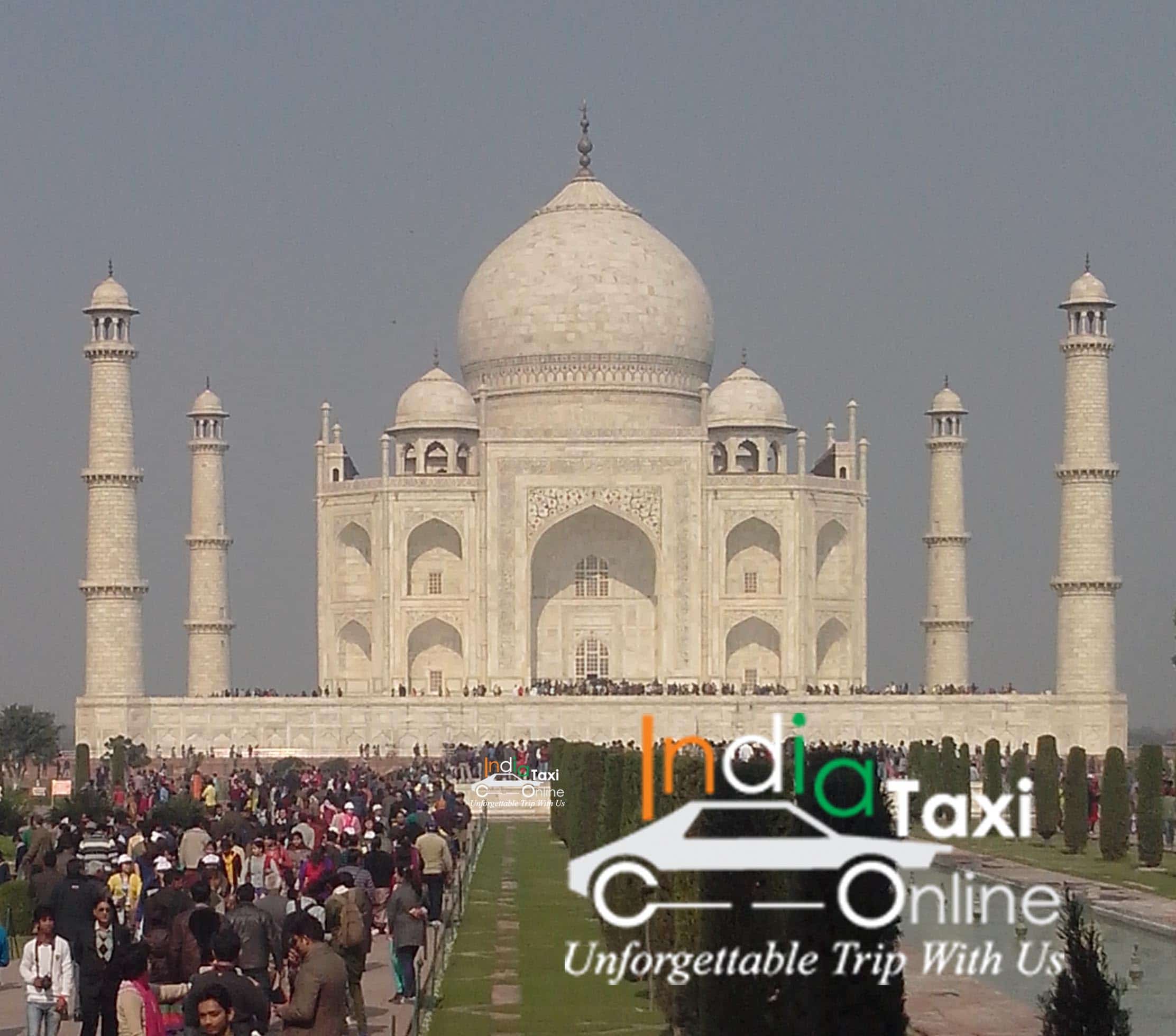 The Taj Mahal
he Taj Mahal is one of the most famous buildings in the world, the mausoleum of Shah Jahan's favourite wife, Mumtaz Mahal. It is one of the New Seven Wonders of the world, and one of the three World Heritage Sites in Agra. Tombs of Shah Jahan and his beloved wife, Mumtaz Mahal. Completed in 1653, the Taj Mahal was built by the Mughal king Shah Jahan as the final resting place for his beloved wife, Mumtaz Mahal. Finished in marble, it is perhaps India's most beautiful monument. This perfectly symmetrical monument took 22 years (1630–1652) of labour and 20,000 workers, The Taj Mahal is on the south bank of the Yamuna River.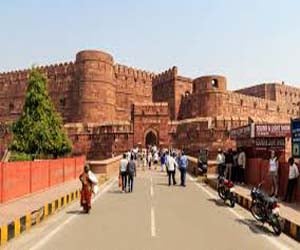 The Agra fort
Agra Fort (also called the Red Fort), was commissioned by the great Mughal Emperor Akbar in 1565, and is another of Agra's World Heritage Sites. A stone tablet at the gate of the Fort states that it had been built before 1000 but was later renovated by Akbar. The red sandstone fort was converted into a palace during Shah Jahan's time, and reworked extensively with marble and pietra dura inlay.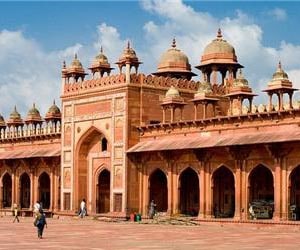 Fatehpur Sikri
The Mughal Emperor Akbar built Fatehpūr Sikrī about 35 km (22 mi) from Agra, and moved his capital there. Later abandoned, the site displays a number of buildings of significant historical importance.
You also check our Delhi to Fatehpur Sikri Taxi Packages.
Itimad-Ud-Daulah
The Empress Nur Jahan built I'timad-Ud-Daulah's Tomb, sometimes called the "Baby Tāj", for her father, Mirza Ghiyas Beg, the Chief Minister of the Emperor Jahangīr. Located on the left bank of the Yamuna river, the mausoleum is set in a large cruciform garden, criss-crossed by water courses and walkways.Distance from Corbett to Almora is 130 km only.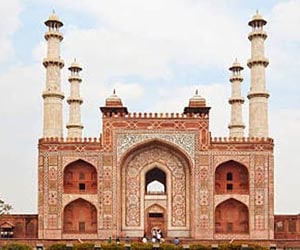 Akbar's Tomb, Sikandra
Sikandra, the last resting place of the Mughal Emperor Akbar the Great, is on the Delhi-Agra Highway, only 13 kilometres from the Agra Fort. Akbar's tomb reflects the completeness of his personality.
Mankameshwar Temple
Paliwal Park (Hewitt Park)
Paliwal Park, during the British Raj was known as Hewitt Park, is now renamed in memory of Shri Krishna Datta Paliwal, Who was the first finance minister of Uttar Pradesh, when Shri Govind Ballabh Pant was the Chief Minister of U.P State. Paliwal Park is located in the heart of Agra, India. It is spread over an area of around 70 acres (280,000 m2). It also has a small lake and has vast variety of trees.
Keetham Lake
Also known as Sur Sarovar, Keetham Lake is situated about 7 kilometres from akbar tomb Agra, within the Surdas Reserved Forest. The lake has an impressive variety of aquatic life and water birds.
Mehtab Bagh
The Mehtab Bagh, or 'Moonlight Garden', is on the opposite bank of the River Yamuna from the Taj Mahal.
Mughal Heritage Walk
The Mughal Heritage Walk is a part of community development programme being implemented with support of Agra Municipal corporation, USAID and an NGO; Center for Urban and Regional Excellence. It seeks to build sustainable livelihoods for youth and women from low resource communities and improve their living environments through infrastructure services and integration within the city.
Visit us at Office in Delhi
Office Number: LG -24, Plot No.13, Vardhman Times Plaza, Pitampura Delhi 110034.
For Sales : +91-9999322925
Phone : 011-45700804. (10:00am to 7:00 pm) Sunday off.
Email: booking@indiataxionline.co.in
Most traveler who want to visit in Agra, they also want to go Mathura and Vrindavan in one day too.
In Uttarpradesh there are lots of beautifull & historical places, we would like to suggest you also check our Agra Mathura Vrindavan one day tour pakages by car.
India Taxi Online
Average rating:
0 reviews